Matt Lange & Francis Preve - Glow Ballz (2014)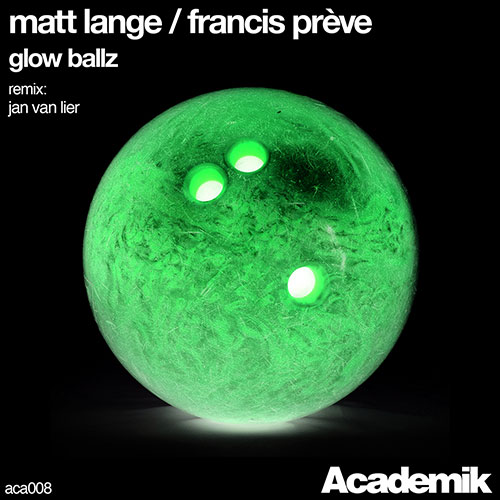 Release Info:
Artist: Matt Lange & Francis Preve
Title "Glow Ballz"
Style: Techno / Tech House
Record Label: Academik Records
Catalog #: ACA008
Release Date: 11th February, 2014 (Beatport Exclusive)
Source: WEB
Release Quality: 320 kbps / 44,100 Hz / Full Stereo
Total Size: _ MB

Tracklist:

1. Matt Lange & Francis Preve - Glow Ballz (Original Mix)
2. Matt Lange & Francis Preve - Glow Ballz (Jan van Lier Remix)

Preview:






---
DOWNLOAD-Soon ...
---
Release Description:
With their irresistible combination of precision-crafted beats, subsonic bombast and ethereal melodic flourishes, Matt Lange and Francis Prève have delivered a proper deep techno classic in the form of "Glow Ballz".

Starting with Matt Lange's ultra-detailed approach to drum design, "Glow Ballz" intelligently evolves into an moody techno groove, punctuated by Francis Preve's ethereal synth atmospherics. As the track progresses to its floating ambient breakdown, the groove expands, incorporating sonic flourishes worthy of an epic film soundtrack. When the drop hits, with its intricate rising percussion elements, dancefloors invariably explode.

"Glow Ballz" has been a staple in Lange and Prève's sets since last summer, always adding an element of surprise and euphoria to both artists' shows.

Jan van Lier's reinterpretation of "Glow Ballz" takes the track into groovier territory, with a driving yet funky tech house vibe embellished with house-inflected chord stabs and tribal vocalizations that are sure to make it a crowd-pleaser in both sweaty clubs and off-the-grid rave caves.